How to deal with the Corona-virus
I would like to inform you how I deal with the subject of SARS-CoV-2 / Covid-19 in my practice.
Supporting your health in "times of Corona" and being able to continue to carry out your medically necessary treatment is a matter close to my heart. I also treat elderly and debilitated people. Treatment should be possible for these, but also for all other people, without fear.
In order to guarantee this security, I would ask you to cancel your appointment if you have acute cold symptoms (fever, cough, runny nose, body aches, chills, diarrhea, nausea). If you have to be in quarantine at short notice, have received a positive PCR test and / or have symptoms, the appointment can of course be canceled free of charge. I am happy to advise you over the phone.
I act according to the hygiene regulations of the Robert Koch Institute. In my practice there are sufficient options for hand washing and hand disinfection. The surfaces, door handles, toilet, etc. are disinfected daily. The treatment sheet is changed after each treatment.

In any case, there is sufficient ventilation after each treatment.

The patient encounters between appointments are reduced to a minimum.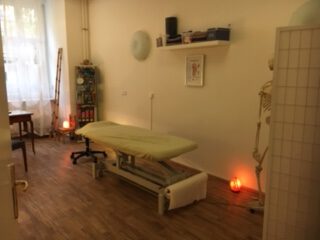 Do you still have questions about our procedures?
Feel free to contact us!